Foot Balm
Regular price

Sale price

$21.00
A 100% natural balm designed especially for the feet. Suitable for adults and children over 3 years.
Made with our homegrown herbs: organic comfrey extract to revive and soothe tired feet after a long day and marshmallow root extract to repair, hydrate and soften hard, rough or dry skin.
Lyonsleaf Foot Balm is fragranced with essential oils of lemongrass, lavender, clary sage and myrrh which, along side organic Coconut oil have been chosen to keep feet fresh, fragrant and healthy
Those in the know will appreciate this is the perfect combination of herbs and essential oils to keep your feet in tip-top condition.
Can be used for foot massage or reflexology treatment. 
Free From
Preservatives
Emulsifiers
Colourants
All artificial chemicals
Features
100% natural and gentle
Contains comfrey leaf extract
Contains marshmallow root extract
Suitable for very dry skin
Softens hard skin on feet
Contains natural essential oils
Suitable for
All areas of the feet 
Adults and children over 3 years
Reflexology and foot massage
Can also be used on hands, elbows, knees etc
Lyonsleaf products are hand-made in the UK, using home-grown herbs, by workers earning a living wage, using as little plastic as possible. Lyonsleaf is against animal testing and is committed to an ongoing program of reducing carbon emissions, environmental impact and waste. 
The packaging of this product is 100% recyclable (glass jar and metal lid in a cardboard box) and we only use biodegradable postal packaging.
Ingredients

Foot Balm

Helianthus annuus sunflower oil* • cocos nucifera (Coconut) oil* • cera alba beeswax* • tocopherol natural - vitamin E oil - gluten free • althaea officinalis. marshmallow root extract* • symphytum officinale (comfrey leaf) extract* • cymbopogon citratus (Lemongrass) essential oil• lavandula angustifolia (Lavender) essential oil • salvia sclarea (Clary sage) essential oil • commiphora myrrha (Myrrh) essential oil • Essential oils naturally contain: Citronellol, Citral, Geraniol, Limonene, Linalool
*Organic/Wild Harvest (98%)
The water-free revolution

The Lyonsleaf water-free revolution is a paradigm shift in skincare. Better for you and better for the planet.

100% Natural - water-free means no need for preservatives or emulsifiers
Undiluted goodness - 100% active ingredients
Concentrated formulas - smaller pots, less packaging
Better skin by better skin barrier

Lyonsleaf products are hand-made in the UK, using home-grown herbs, by workers earning a living wage, using as little
plastic as possible. Lyonsleaf is against animal testing and is committed to an ongoing program of reducing carbon emissions, environmental impact and waste.

 
Directions & Guidance

Apply to skin as required
Storage & Shipping

Store all Lyonsleaf products in a cool dark place to preserve beneficial compounds and avoid solid products melting.

Stored properly and unopened all products will keep indefinitely. Use within 12 months of opening.

If a solid product does melt, reset it in a refrigerator. Products containing shea butter should be warmed to a liquid state and then reset quickly in a refrigerator to avoid the shea butter forming grainy lumps as it hardens.
Share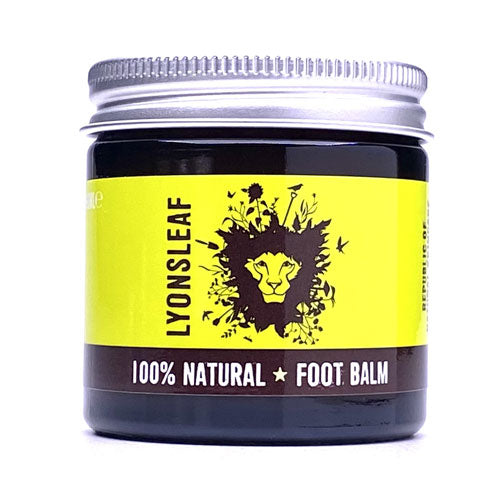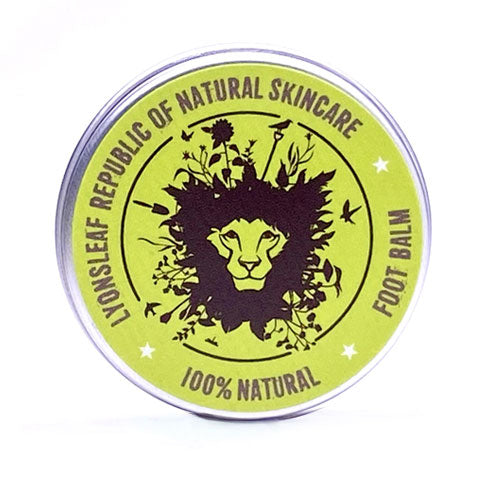 Guarantees
100% Natural

Lyonsleaf own brand products contain
NO artificial chemicals

Water free products

Water free means undiluted goodness.
100% Active ingredients.

Eco Product Packaging

Almost no plastic and water free means smaller pots: less packaging and less resources used for shipping

Eco Postal packaging

We use cardboard paper and cornstarch chips for packaging orders and we even use paper tape.
FAQs
How Quickly do you despatch?

We despatch orders Monday to Friday and we always dispatch the same working day (if ordered before 12 noon) or the following working day.
Will my skin react to Lyonsleaf Products

Our products are all 100% natural and free from all artificial chemicals. Because they are water free we can even avoid antimicrobial preservatives and emulsifiers. For this reason it is very unusual for anyone to react to our products at all. However some people are sensitive to essential oils, so if you are super-sensitive please choose unfragranced product options. Even less common, it is possible to be allergic to calendula and other herbs, so it is always important to do a patch test. In the unlikely event that you do have an adverse reaction, you can return your product for a full refund. We also sell samples of most products so you can try before you invest in a big pot.
Why is the pot so small?

Lyonsleaf products are water free and contain only the finest, plant oils, butters natural waxes and mineral ingredients. Most high Street products are up to 80% water, which means you need to apply them much more liberally and frequently. You will find you only need to use Lyonsleaf products very sparingly to achive good hydration that lasts all day. Products that are rich in soothing herbs can be used more frequently to achieve the best calming effect, but they still only need to be used sparingly. So these little pots go a long way, using less packaging and less transportation resources.
Are Lyonsleaf products vegan?

Much of the Lyonsleaf range is vegan, but we do use organic beeswax in some products. When it came to choosing a suitable wax, we decided it would be better for the environment to choose a farming method that promotes pollinators rather than a vegetable mono-crop that causes deforestation and loss of habitat. We only use organic beeswax as organic farming standards require farmers to have high welfare standards for Bees.
Send us your photos or videos
Send us a photo of you with a Lyonsleaf product, using a product, tell us about your skincare routine, tell us what you use our products for or send before and after pics. If we use it on social media or our website we'll send you a £10 voucher.
Send your photos to photos@lyonsleaf.co.uk